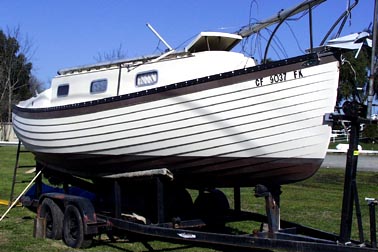 M23 After the First Cleaning
I used a power washer and was pleased to find that the algae and debris cleaned up nicely. The gelcoat was oxidized but in pretty good shape.
The cockpit cleaned up fine as well. The running rigging was all replaced. A light buffing with heavy duty oxidation remover was all that was needed to bring out a nice shine.

As you can see, the inside was just dirty but in very good condition. This is the stairs leading into the salon from the companionway. Under the top step is an ice chest. The port quarterberth is very comfortable.
The stainless steel stove in the galley looks brand new and works like a champ.

This shot is looking down into the salon from the companionway. It almost looks like a new boat.
The vee berth is pretty cozy.

All in all she cleaned up nicely although I am still having problems with spiders.